One of the great things to explore in any college town is the local coffee scene, and Athens Ohio offers several great options for your next cup of joe. Whether a morning meeting with a colleague, catching up with a friend or grabbing a hot drink to-go, Athens offers several wonderful coffee shop options and most are within walking distance to Ohio University. I'm excited to highlight four of my favorites!
67 S Court St.
Conveniently located next on Court Street across from College Green, Court Street Coffee offers a large variety of drink options, especially if you love some flavor with your joe. With a strong reputation for good prices and fast service, Court Street Coffee offers a large drink menu, with seasonal specials powered from Columbus roaster, CrimsonCup. They recently opened a second location inside the Holzer Clinic on East State St. I love stopping in at Court Street for a delicious cup on the go. Keep in mind, seating (and parking for that matter) can be tricky, especially when the crowds of Ohio University students are moving between classes.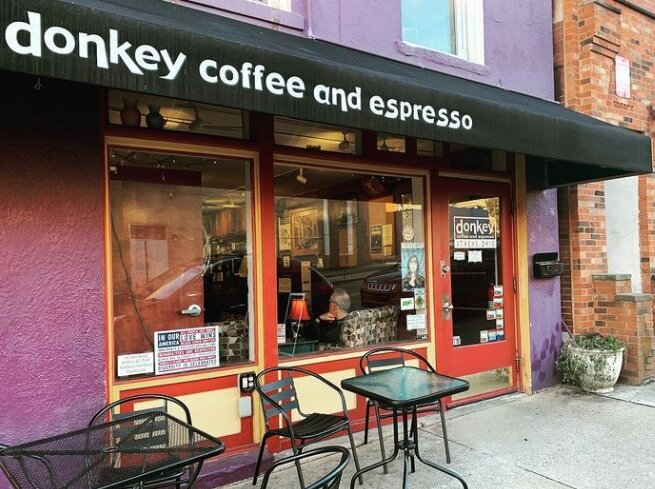 17 W Washington St
It is impossible to talk good coffee around Athens, without mentioning Donkey Coffee and Espresso. I've spent many a meeting and work session here. Donkey Coffee is the most awarded and recognized coffee shop in the area, and a favorite hangout spot for locals, students and professionals alike. Located in the heart of uptown, Donkey has the largest footprint, and boasts plenty of cozy seating options for reading, meeting up with friends, or catching some live music. Like any uptown location, parking can be a puzzle, but Donkey is worth the effort for your next coffee run and their rewards loyalty program might just keep you coming back for more.
9133 Rock Riffle Rd,
The newest member on our list, Town's End Coffee opened in 2018 in a historic riverfront building near Stimson Avenue Bridge. Towns End's vision is to provide a deep community feel, with a focus on unique, quality coffee. With sweet treats provided from local Fluff Bakery, Town's End Coffee is located a stone's throw from the exit off of US-33, and has quickly become a regular commute option for Athenians (like me!) on our way to work. During the comfortable weather days spring, summer or fall, it's common to see locals and college students enjoying their delicious drinks at outside tables that overlook the Hocking River.
38 South Court St.
If you're looking for more of a cafe setting, while not sacrificing your drink options and coffee quality, Brenen's Coffee Cafe is your spot! An Athens staple since 1991, Brenen's offers a full lunch menu, and plenty of tasty breakfast treats. They usually boast plenty of seating options, and are located just a few steps away from Ohio University. In 2020, Brenan's expanded their outdoor sidewalk seating with a parklet right on the famous Court St. bricks. When the weather is nice, it's tough to top enjoying a warm brew from Brenan's while enjoying the hustle and bustle of outdoor seating that's literally ON Court Street. On a personal note: Brenen's will also hold a special spot in my heart – it's where I ate lunch mere hours before welcoming my first daughter!